Getting your saree look done is not a menial task. It would help if you got many things right to make your overall appearance striking. From the draping style to makeup to accessories, many go in making the best saree look. In the list, tops the jewelry that you pair for your sarees. Yes, even if you drape designer pieces, still, you must opt for the right jewelry that aids in your collective saree look.
Today's post is all about choosing the best matching jewelry when it comes to pink sarees. It's quite a known fact that pink is the most favored color by women among the hue family. From baby pink to majestic fuchsia, the love for pink is eternal, and often you will have at least one shade of pink saree in your wardrobe. When you pick that flattering shade to wear in the coming days, make sure you have our tips in hand to give a dashing finish to your saree.
Now scroll down and take a look at our quick tips to flaunt the pink saree with the correct matching jewelry!
Yes, sometimes keeping things simple is the best you can do to an outfit. And your pink saree is no exception. If your saree is bright and glittery, then opt for a bold jhumka of your choice. Rest go easy with other jewelry. The jhumka will do the talking.
Pink is the hue that is more vibrant in many cases. If your saree belongs to the more attention-seeking shade of pink, then you need punchy jewelry that beats the color and shine with your saree. In this case, opt for antique neckpieces and earrings. Beyond the energetic color, these jewelry pieces have a way to elevate the look.
Pink and pearls go beautiful and jell well together. Hence if your saree is silk, opt for long pearl harams and pearl chokers. If you wear designer or pure pink sarees, match them with fancy pearl necklaces. You will stun the crowd!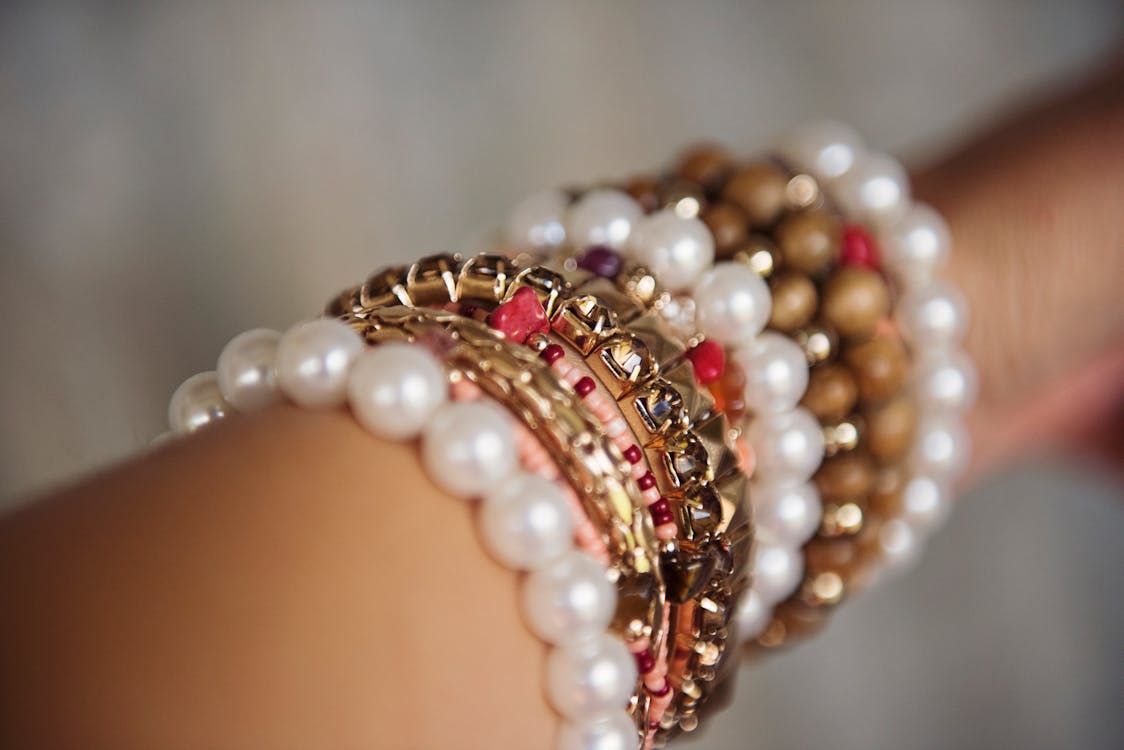 Chandbali earrings are making considerable waves in the jewelry world. They play well with almost any attire. And you can flaunt your pink saree with just a statement chandbali and keep the rest of the accessories simple in your saree look. We are sure; it will be a huge hit.
Image Source – Pinterest
Ok! We understand you are not the type who loves to deck up eye-catching jewelry. That's perfectly fine. Still, you can opt for minimal stone earrings or diamond earrings to finish your saree style. Sometimes a sparkling white stone earring is all your pink saree needs to give your look the much-needed boost.
These are our quick tips to make you shine on your pink sarees. Keep them in mind when you match your jewelry with traditional women's clothing, and you will strike your saree look without a doubt.