Lighting your house interiors is an art in itself. The home designers try balancing a wide range of requirements for achieving a practically and beautifully designed bedroom, with spectacular lighting arrangements. Once you take over this responsibility, decide upon the lighting fixture points or their placements. The decision has to be a wise one, as it has to cater to the requirements of the residents. Light intensity and colour temperature are two other elements making all the difference while bestowing an aesthetic impact. These DIY LED lights also aids in mood lighting, which you can monitor before sleeping.
When you plan to revamp your bedroom, sometimes less is more. DIYs are easy to incorporate into your private space, and you can showcase your creative skills also. By the mood settings, you can design your bedroom with the LED lighting ideas, with the help of various DIYs. Experiment with many elements to mix and match with your DIY lightings to give your bedroom a classy look. In this nifty, five DIY LED lighting ideas are compiled, along with associated tricks and tips. Read on to quickly have a look at the few instances for further inspiration. You are free to make a space of your own, which is simplistic yet stylish. It just depends upon what you are desiring!
Mason Glow Jar Lamps
Start recreating your bedroom décor with a DIY lamp made of a glass jar. It is a great way to add some sparkle to your private space. It is also not pocket-pinching! The whole process of making this DIY lamp is not too expensive and caters to high recreational activity. The truth lies behind that you can utilize most of the items lying comfortably across your home. This first kind of craftwork is a supermodel of cultivating your skills and is trending the DIY charts in recent times. The whole lighting piece is made of two items – a glass mason jar and a string of LED string of fairy lights. These sorts of LED string fairy lights are a great way of implementing your DIY idea. You have to fit these string lights inside the glass jars to enable them to illuminate in the dark. These LED bulbs come in exact sizes, and with the right power cords, you can use them as per your need. Being LED, they are cost-effective and perfect to set the ethereal mood inside your personal space – the bedroom.
Circle-of-Light Pendant Lamp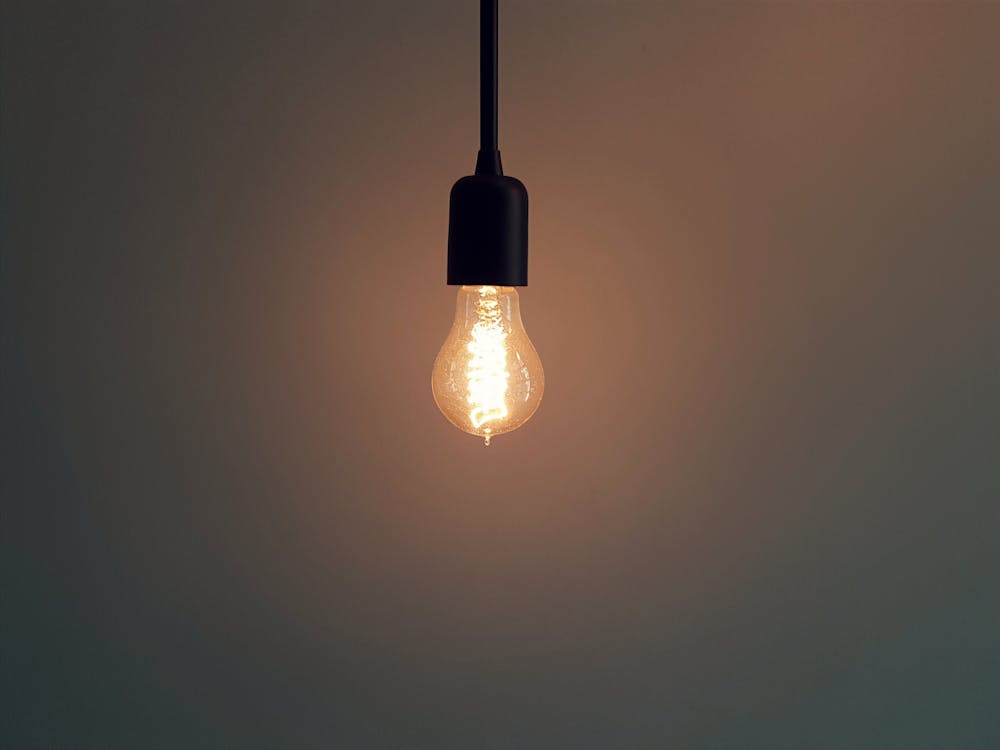 This DIY pendant lamp glows softly at one corner of your bedroom. The whole concept is impressive, consisting of wooden strands and a single LED light bulb. The sort of wooden strands used is of flexible material, allowing you to shape it in whatever way you require. Other associated ingredients are hot glue, small clamp hooks, heavy-duty string, and cutters or pliers. The whole thing secures rightly with a small clamp hook after the strings detach and forms into a circle. It gives a round shape to the entire thing. Then attach the same with the help of hot glue. The quirky halo light pendant lamp is a great way to light up the corners of your bedroom while maintaining the level of intrigue. You might expect some excited faces when they step inside your bedroom, as this kind of circle-of-light DIY LED lighting is not so common!
Faux-capiz and lace-cloth Chandelier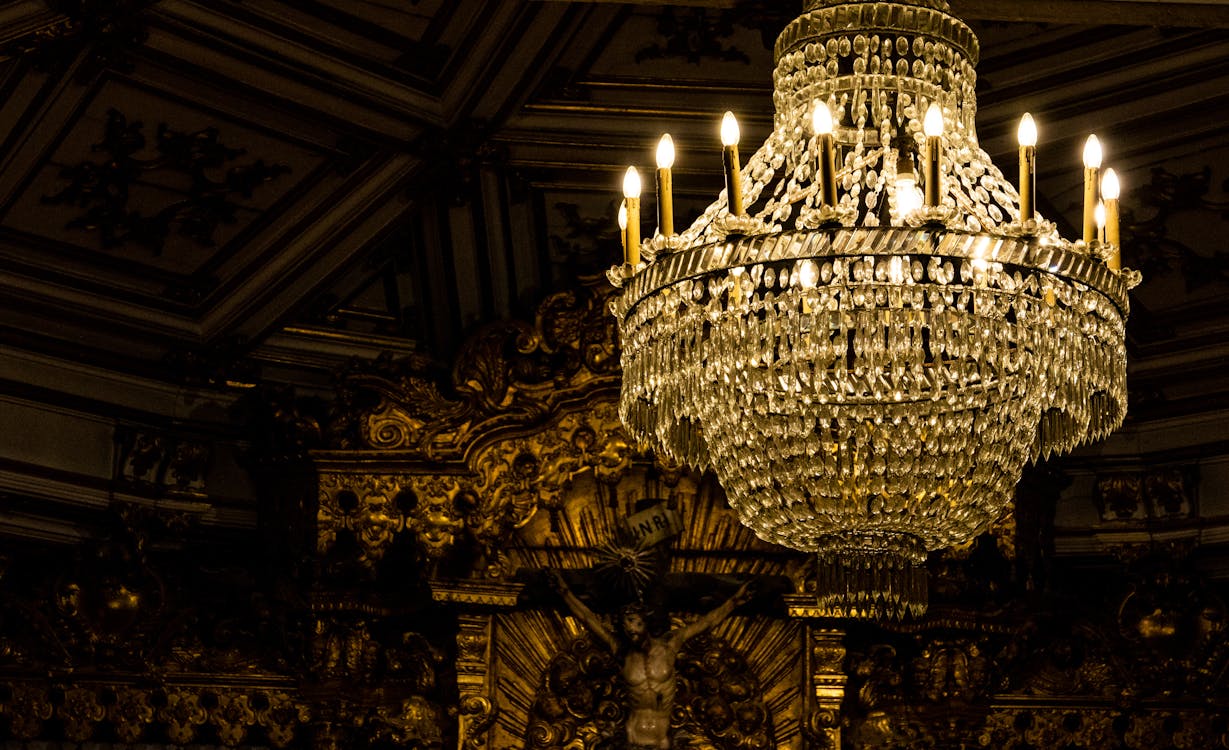 While it looks beautiful and attractive, the whole procedure of making the DIY lamp is a bit complicated and convoluted. However, the entire process is time-taking but interesting. An off-white varnish-paint, coloured ribbon lace-cloth, cutters, pliers, a couple of wax paper rolls, two big parchment paper rolls, a press, a glue-gun, round-shaped cutters, as well as a non-slip board. The whole DIY process starts with a planter's pot, which is spray painted. Following that, the faux-capiz shells are prepared. Three wax paper pieces of similar length placed between the parchment papers. After ironing them, cut the lace-cloth into small strands and attach them to the planter's pot. Lastly, cover the whole with faux-capiz shells. Fix an LED bulb to make it look attractive. The whole thing looks gorgeous and gives an expensive look to your bedroom. The entire process of making this DIY LED light is easy and fits into the label of an inexpensive craft.
Ruffled Ribbon Lamp-shade with LED Lighting Fixtures
It requires a lot of patience for most of your DIY projects. Initially, you are supposed to get hold of all your DIY materials, including cotton twill ribbons measuring nine yards, a lamp-shade (which will act as a base), a chop-stick, a glue-gun, a scale, and a marker to mark the lines. Draw the lines with the help of the scale. These lines will help you guide the ribbon down the lamp-shade. Secure the decoration on the top-most of the lamp-shade; you have to use a chop-stick to form the ruffle. To ensure, apply hot glue, and then repeat the whole process. The same implies to the entire lamp-shade. After that, fix the LED bulb to illuminate your DIY! It is an excellent DIY for your bedside lamp. You can choose the ribbon colour in accordance to the bedroom walls. The chances of creativity are never-ending when the question comes to this distinctive DIY lighting!
Plastic Glass DIY Pendant String-Lights
The unused plastic glass can be your good DIY thing, and it turns into a beautiful pendant string light. All you require for this DIY is a bit of imagination and creative skills. Wrap the plastic glasses with colourful fabric or tapes. Make multiple such types of lamp-shades and attach them with the aid of a string. You can make use of any strings, but remember to use a thick and durable one. It suggests maintaining the shape of the lamps. Fix small LED bulbs inside them and hang the same above your bed or anywhere you desire in your bedroom. The whole thing will also look great when used as a led floor lamp. Choose a corner of your bedroom, and you can transform the space according to your requirement. With these kinds of DIY LEd lighting fixtures, transform the selected space as a small cosy sitting area. This super cool lighting idea makes a fabulous environment in your bedroom. All the more, it is entirely customizable.
Deduction
Are you the person who believes in minimalist lighting ideas in your living areas? Any concept you prefer, you have to be a bit of experiment minded with various styles to create your personalized space. There are so many DIY concepts you can lay your hands, and you want to be the creator of one of them!
Various queries are cropping in our mind, related to lighting up our bedrooms and other rooms, as well. These above discussed five DIY LED lighting ideas will assist you in taking wiser and useful decisions when lighting your private space – the bedroom. Read on further to gain knowledge of the inspirational bedroom DIY LED lighting ideas. These will hence enable you to transform your bedroom as your dream world! The following five notions will give you several top bedroom lighting tips. Your bedroom lighting has to be always bright during morning time, while intimate and atmospheric during nights catering to a romantic sanctuary. These all LED lighting solutions add-on drama to your private and also to your lighting décor.